Winter, Spring, Summer or Fall - there is so much to do in Provincetown! We want you to experience our wonderful town to its fullest. Provincetown is convieniently located to public transportation: bus, taxi, airport, or Boston ferry. Once here, rent a bike, take a taxi, a pedicab or maybe one of our convenient buses. Or just enjoy the walkability that is so unique to Provincetown.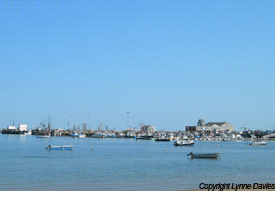 Ravenwood provides each accommodation with a personally designed information booklet. We have written this guide to help our guests discover the "best" Provincetown has to offer: picturesque spots, the most breathtaking beaches, off-the-beaten-path walks, spectacular whale-watching, nature adventures, picnic spots, the best restaurants, entertainment, music, art and theater.
We'd like to extend our personal invitation to you and your friends to share our captivating village. Provincetown, with its quaint winding lanes, picturesque homes, pine-scented trails, rose-covered dunes and miles of unpopulated National Seashore make this a travellers' paradise. Our bay, the second largest natural bay in the world, is alive with activities. You can walk down to the wharf and see the fishing fleet hauling in their daily catch, buy a lobster or take a whalewatching trip for one of the most breathtaking experiences of your life.
There are museums and many handcrafted and unique shops to browse. Take a trolley car down our narrow village streets. Nights are full of excitement - theater, cabaret entertainment, dancing, gallery stroll and a different restaurant for your every whim. Here are some helpful links to informational organizations:
Planning a wedding or special occasion in Provincetown? Let us plan your special day. We gladly offer our time and assistance in planning this most special event. We'll be happy to tell you all about registration and help you with your legal arrangements at Town Hall.

You could plan a church service, a beach service or a private ceremony. We can help you find special flower arrangements, wedding rings and photographers. Catering is available for everything from banquets to candlelight dinners.

All our personal assistance for your special occasions (weddings, birthdays, anniversaries) is complimentary.